The PET bottle recycling plant takes dirty bottles and transforms them into clean PET flakes. This is an export commodity which can be sold and used for many creative applications. And the flakes can be further processed and reutilized with high commercial value. The production capacity we can make on the PET Bottle washing and recycling line can be 1000kg to 2000kg per hour.
Main Features
1. Coordinating the production line with follow programmed work (granulating system), and it will make waste and dirty PET bottles to be the PET granule material and in order to producing new PET bottles.
2. Friendly control system (PLC integrated & separated control on each machine) and touch screen panel, easy for operation, monitor and emergency stop.
3. All parts contacting with plastic material and water are made of high-quality 304 and touch screen panel, easy for operation, monitor and emergency stop.
4. The whole production line can be designed on the basis of how dirty the flakes are, and make sure of the quality of the final products.
● OEM & ODM.
● One year warranty.
● Input raw materials: recycled PET bottles.
● Output products: 10-16mm clean PET flakes.
● Capacity: 500kg/h.
● Total power: approx. 206kw/h(Electric heating 100kw).
● Manpower: about 7 people.
● Water required: about 3 cubic/hour.
● Voltage: AC380V, 50Hz, 3phase. (If different, pls tell me).
● Recycling line space: about 28m*3*2.3m.
Email : seo@vanermachinery.com
Mobile&whatsapp : +86 18821659423
Factory Add. : HIGH-TECH INDUSTRY PARK , LUQIAO TAIZHOU ZHEJIANG.

Add.:ROOM 1802, A3 BUILDING, JINYE SHI DAI, JINYE ROAD , XI'AN SHAANXI, CHINA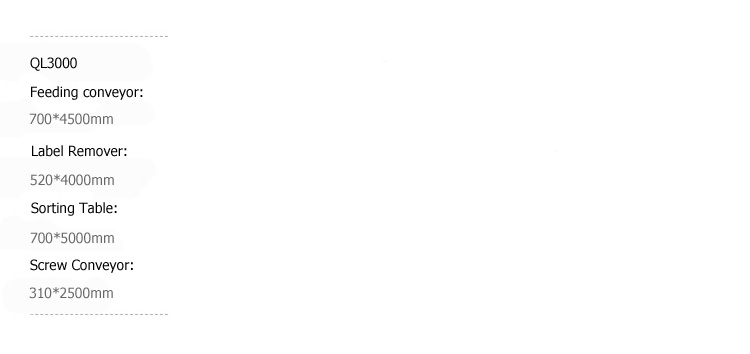 Video: