VANER V-C05 Cable granulator machine is an advanced technology for the treatment of waste cables. After repeated technical adjustments, the advanced Cable granulator machine has an excellent treatment effect on waste cables.
After a series of treatments, these waste copper cables can be decomposed into pure copper particles. And plastic particles, these copper particles are called copper rice and can be used directly. Its separation rate is as high as 99.9%, it is dust-free and pollution-free, and is an excellent environmental protection equipment.
C05 Cable granulator machine is mainly used for the disposal of waste electrical wires, such as automobile circuits, electric scooters, and televisions, washing machines, refrigerators, air conditioners, communication facilities and computer wires. This is an effective and useful device.
● OEM & ODM.
● One year warranty.
● Silent performance.
● Easy to use.
● Reliability and robustness.
● Reduced maintenance times.
● Low operating costs.
● 1year warranty pure copper motor.
● High quality electric box.
● High quality 9CRSI Blade.
● High quality steel.
● 99.99% high separation Rate.
● recycle scrap waste copper aluminium cable wire
● automatic,electric.
● best selling,china made.
● Custom size from mini to big plant.

● widely used in copper wire recycling industry.
Email : seo@vanermachinery.com
Mobile&whatsapp : +86 18821659423
Factory Add. : HIGH-TECH INDUSTRY PARK , LUQIAO TAIZHOU ZHEJIANG.

Add.:ROOM 1802, A3 BUILDING, JINYE SHI DAI, JINYE ROAD , XI'AN SHAANXI, CHINA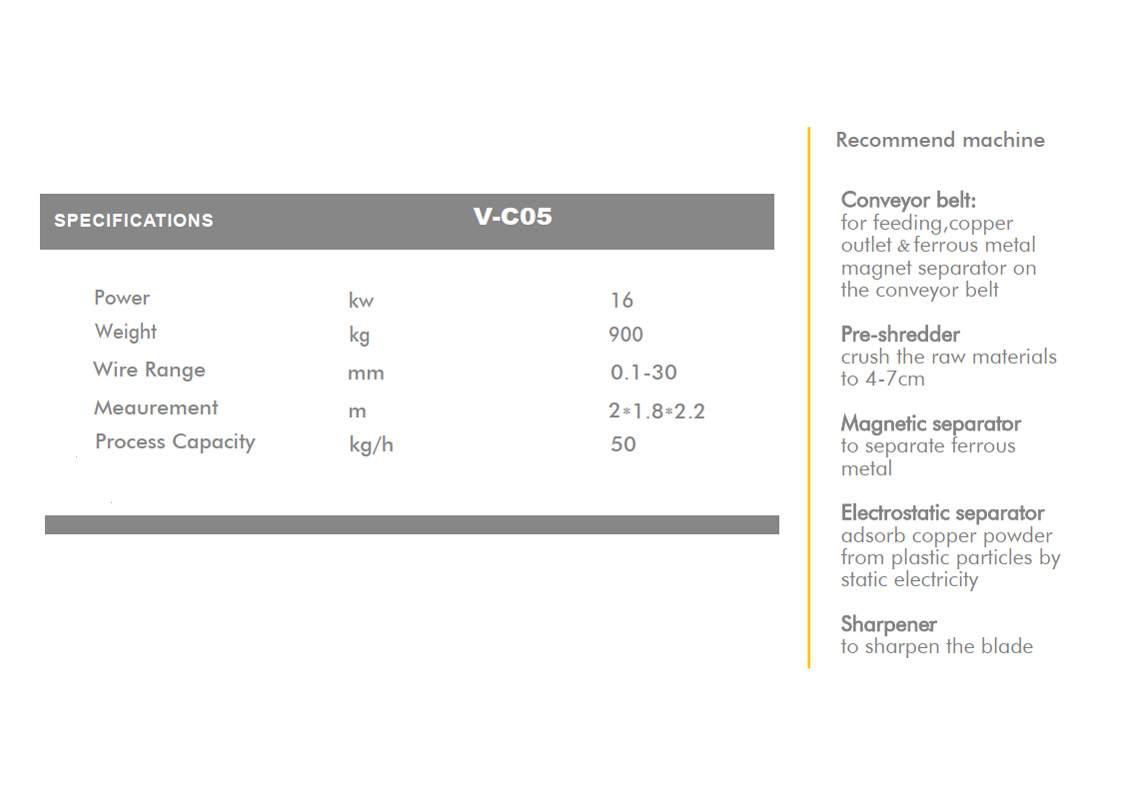 Video: