Factory Video:
Buy our international standard level V-C20 Cable granulator machine to run your recycling business smooth, hassle free and make profits.. Order today !!

Product Description:
● As a new type of machine, the C20 Cable granulator machine adopts advanced design concepts, implements strict production processes and has been repeatedly tested.
● It is suitable for the recycling of raw materials in any country in the world, and can meet the requirements of different power load specifications. The appearance of the Cable granulator machine not only solved the pollution problem of burning copper, but also improved the quality of copper recovery.
● Used to handle various cables, such as automotive electrical wiring, communication cables, etc. C20 Cable granulator machine can be used to completely separate copper and plastic to achieve the purpose of comprehensive utilization. High economic benefits, no secondary pollution. Easy to install and debug, easy to transport and simple to operate.
● C20 Cable granulator machine is widely used in the recovery of wires and cables with a diameter of 0.1-30mm, and the separation rate is as high as 99.9%.
● This Cable granulator machine is one of the best choices for recycling copper wires, it occupies a small area and consumes little energy. The voltage, current and wire load of this series can meet its working requirements.
● OEM & ODM.
● One year warranty.
Product Show: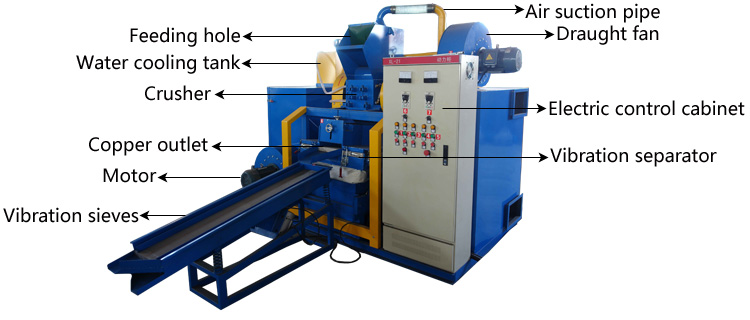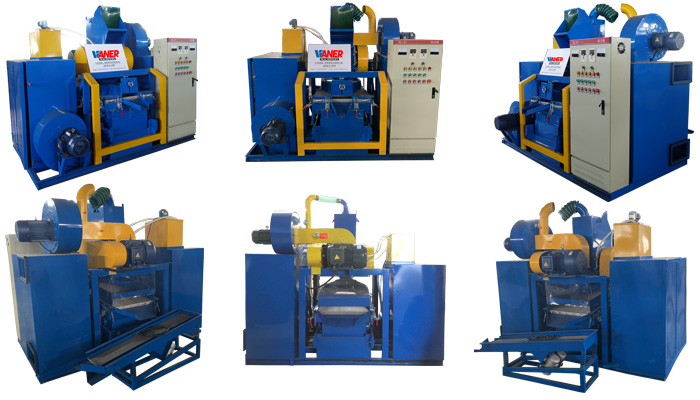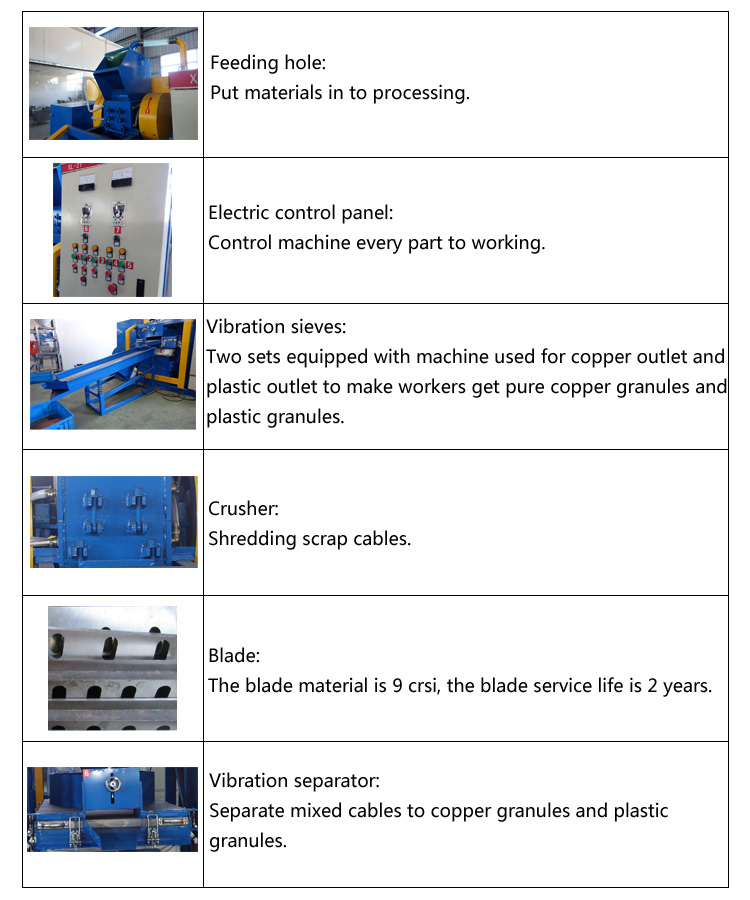 Factory Picture: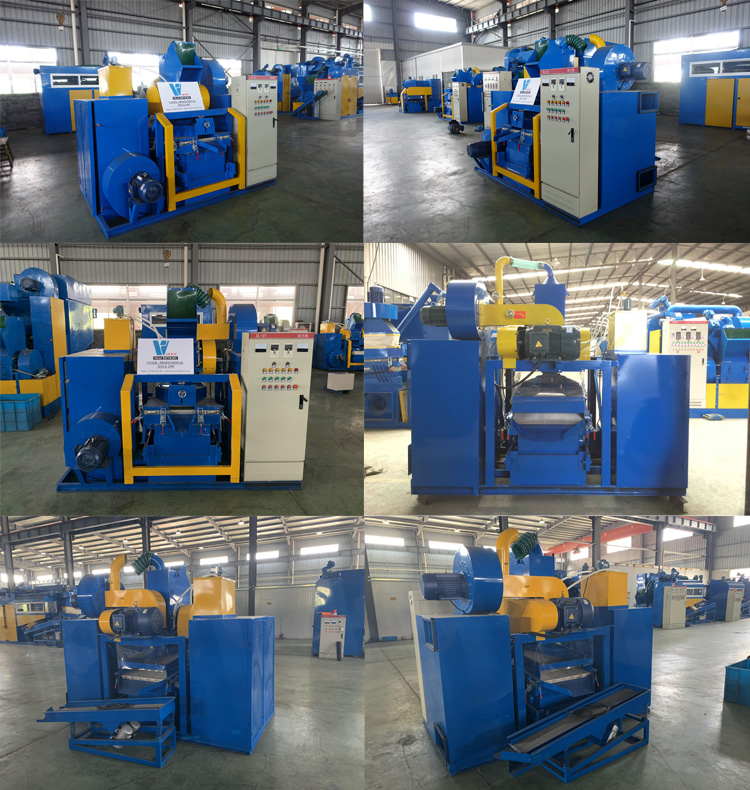 Flow Chart: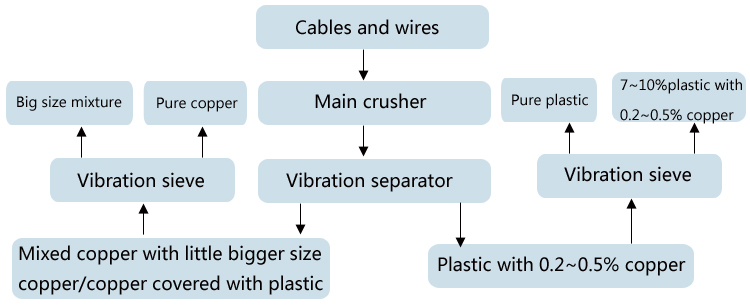 Operation steps:
Step 1: Feeding scrap cable into feeding holes and make them crush to small pieces by crusher.
Step 2: Crushed cables drop into vibration separator.
Step 3: Mixed cables is separated by vibration separator to pure pvc and copper granules through air blowing and separator vibrating.
Q & A:
Q1: Does the machine need to be installed?
A1: Does not need to be installed,directly connected to the electricity.
Q2: What size can be handled?
A2: The minimum and maximum wire diameter that the cable granulator machine can handle: 0.5mm-30mm.
Q3: What is the separation rate and pure copper rate?
A3: The separation rate is generally 99.8%, and the pure copper rate is generally between 40% and 50% depending on the type of wire.
Q4: How do I adjust the buttons on the control panel?
A4: Air volume is to control plastic blowing backwards, the vibration is to control the copper particles to move forward.
Q5: How to operate in different situations?
A5: Plastic at the copper outlet: you need to increase the air volume or reduce the vibration frequency. Copper particles in the plastic port: you need to reduce the air volume or increase the vibration frequency.
Final Products: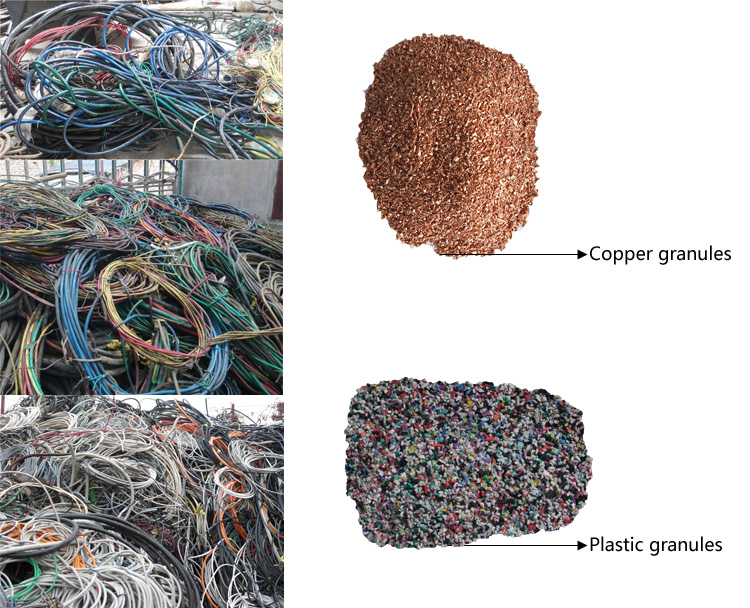 You might also like: