The C55 Cable granulator machine specializes in waste wire and cable production lines.
It has a novel and unique structure, large production capacity, low energy consumption, high sorting rate, one-time feed, multi-machine coordination, and domestic leading level.
It can also improve the quality of recycled copper, and can recycle plastic to solve environmental pollution.
After the waste wires and cables are broken, they are fully mechanically separated to completely separate copper and plastic to achieve the purpose of comprehensive utilization and have high economic benefits. And no dust, no secondary pollution.
In addition, the device has an overall modular structure, which is easy to install and debug and transport (the customer can generate it through power supply after purchase), and the performance is stable.
The machine has compact structure, beautiful appearance, reasonable layout and convenient installation.
Intelligent operation makes the operation easier, saves time and effort, and ensures the stable operation of the equipment.
The sorting equipment and the dust collection equipment adopt a platform combination, which makes the equipment easy to move and transport, and increases the flexibility of the equipment.
Equipment separation rate is as high as 99.9%. The post-feeding system performs secondary crushing on the semi-finished product to ensure complete separation of metal and non-metal.
● OEM & ODM.
● One year warranty.
● Silent performance.
● Easy to use.
● Reliability and robustness.
● Reduced maintenance times.
● Low operating costs.
● 1year warranty pure copper motor.
● High quality electric box.
● High quality 9CRSI Blade.
● High quality steel.
● 99.99% high separation Rate.
● recycle scrap waste copper aluminium cable wire
● automatic,electric.
● best selling,china made.
● Custom size from mini to big plant.

● widely used in copper wire recycling industry.
Email : seo@vanermachinery.com
Mobile&whatsapp : +86 18821659423
Factory Add. : HIGH-TECH INDUSTRY PARK , LUQIAO TAIZHOU ZHEJIANG.

Add.:ROOM 1802, A3 BUILDING, JINYE SHI DAI, JINYE ROAD , XI'AN SHAANXI, CHINA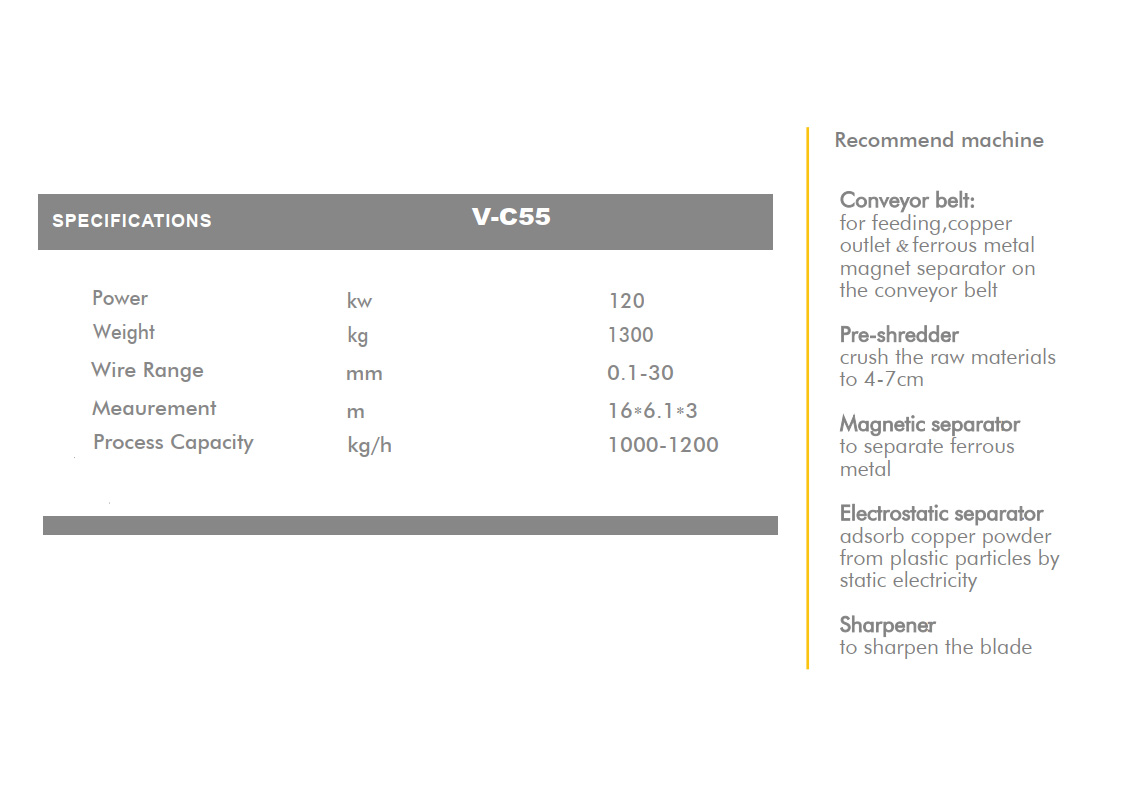 Video: