VANER V-S05 Cable granulator machine suitable for productions from 100 to 250 kg/h.
All the mills of the S05 Cable granulator machine are obtained from the processing of a single steel block without welded parts.
The motorizations, correctly sized, allow to overcome unexpected loads guaranteeing uniformity of operation and extremely low energy consumption, which is also thanks to the high performance of the trapezoidal transmission belts.
The peculiarity of the S05 Cable granulator machine is that they are prepared for the subsequent installation of the TURBO refining device in order to increase its production capacity.
S05 Cable granulator machine can be connected to the pre-grinders of the PS series through an NST series conveyor in order to create a complete recycling plant.

● OEM & ODM.
● One year warranty.
● Silent performance.
● Easy to use
● Reliability and robustness
● Reduced maintenance times
● Low operating costs
● 2 year warranty high quality pure copper motor.
● Famous brand electric box:SINEE frequency converter & CHINT/DELIXI electrical appliances.

● SKD-11 Blade made in Japan.

● Extra heavy high-quality steel.

● 99.9% high separation Rate.
● recycle scrap waste copper aluminium cable wire
● automatic,electric.
● best selling,china made.
● Custom size from mini to big plant.

● widely used in copper wire recycling industry.
Email : seo@vanermachinery.com
Mobile&whatsapp : +86 18821659423
Factory Add. : HIGH-TECH INDUSTRY PARK , LUQIAO TAIZHOU ZHEJIANG.

Add.:ROOM 1802, A3 BUILDING, JINYE SHI DAI, JINYE ROAD , XI'AN SHAANXI, CHINA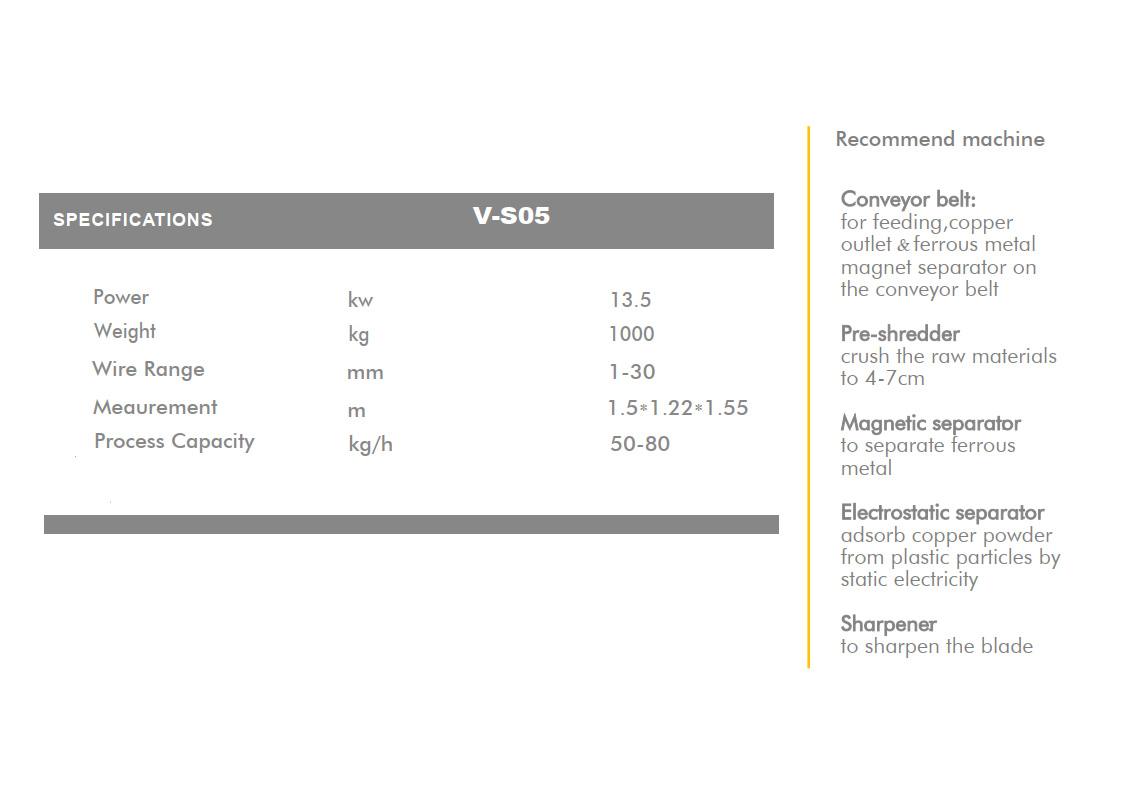 Video: