VANER V-S10 cable granulator is an advanced technology to deal with the waste cables by the Cable granulator machine.After the technical adjustment of iterations, the advanced Cable granulator machine has an excellent effect on the disposal of the waste cables.After a series of processing, those waste copper cables can be broken down to pure copper particles and plastic particles.These copper particles, which are called copper-rice, can be used directly.
The method that the solid recycling industries deal with the used cables in China, is mainly to use Cable granulator machine to screen and finally collect copper particles and plastic particles.
The automatic dry Cable granulator machine (the equipment of recycling used cables or wires) is mainly used to dispose those oil-free wires such as used communication wires, vehicle wires, computer wires, telephone wires, household appliances wires, and etc.
It is also called the Cable granulator machine because the separated copper particles are like rice, which is an efficient and useful device for reusing waste cable wires for the present.
V-S10 Cable granulator machine is a complete production line developed by our company. It mainly crushes various cables such as communication cables and miscellaneous wires to achieve the separation of copper and plastic. The separation rate is as high as 99.9%. The number of lines is 100KG/H. The device adopts an integrated structure, which saves space and has stable and reliable performance.
● OEM & ODM.
● One year warranty.
● Silent performance.
● Easy to use
● Reliability and robustness
● Reduced maintenance times
● Low operating costs
● 2 year warranty high quality pure copper motor.
● Famous brand electric box:SINEE frequency converter & CHINT/DELIXI electrical appliances.

● SKD-11 Blade made in Japan.

● Extra heavy high-quality steel.

● 99.9% high separation Rate.
● recycle scrap waste copper aluminium cable wire
● automatic,electric.
● best selling,china made.
● Custom size from mini to big plant.

● widely used in copper wire recycling industry.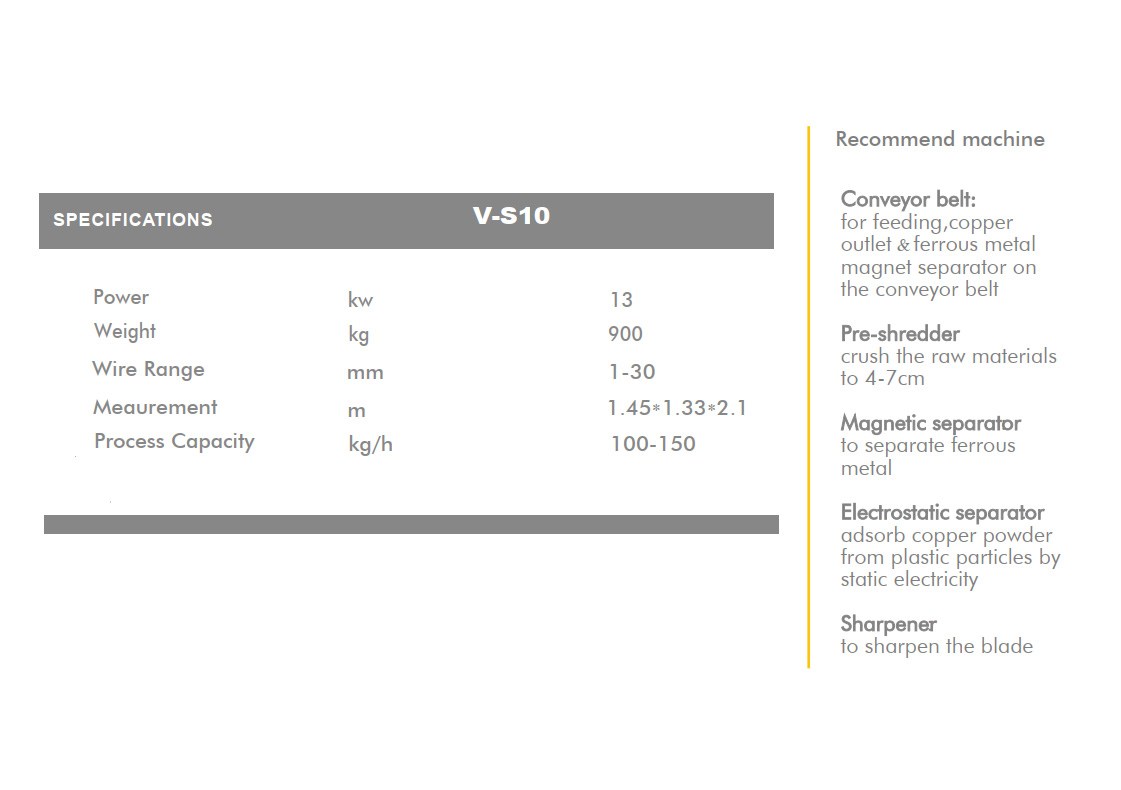 Video: