VANER V-S20 Cable granulator machine adopts advanced design, reasonable structure and reliable operation.The characteristics of the production line can not only handle ordinary thick lines, but also thin lines have good separation effect.
This production line consists of feeding conveyor belt, heavy crusher, feeding blower, vibrating screen, pulse dust collector, hydraulic station and electrical control cabinet.
Smashed cables or wires become plastic particles and copper particles when crushed.
The mixture will jump and move forward like a wave on the surface of a shaker screen. With the function of air flow and direct vibration of the screen box, the skin layer and the core layer will be separated, and copper particles, plastic particles and mixtures will be obtained from different exit areas.
Each step is controlled by a PLC program and started and stopped by a button.
The operation interface video shows the working status of important components and intelligently displays the equipment failure.
The diameter of the waste cable that can be processed is 0.5-20mm, the output is 150-200KG per hour, the separation purity can reach 99%, and it is easy to operate and maintain.
● OEM & ODM.
● One year warranty.
● Silent performance.
● Easy to use
● Reliability and robustness
● Reduced maintenance times
● Low operating costs
● 2 year warranty high quality pure copper motor.
● Famous brand electric box:SINEE frequency converter & CHINT/DELIXI electrical appliances.

● SKD-11 Blade made in Japan.

● Extra heavy high-quality steel.

● 99.9% high separation Rate.
● recycle scrap waste copper aluminium cable wire
● automatic,electric.
● best selling,china made.
● Custom size from mini to big plant.

● widely used in copper wire recycling industry.
Email : seo@vanermachinery.com
Mobile&whatsapp : +86 18821659423
Factory Add. : HIGH-TECH INDUSTRY PARK , LUQIAO TAIZHOU ZHEJIANG.

Add.:ROOM 1802, A3 BUILDING, JINYE SHI DAI, JINYE ROAD , XI'AN SHAANXI, CHINA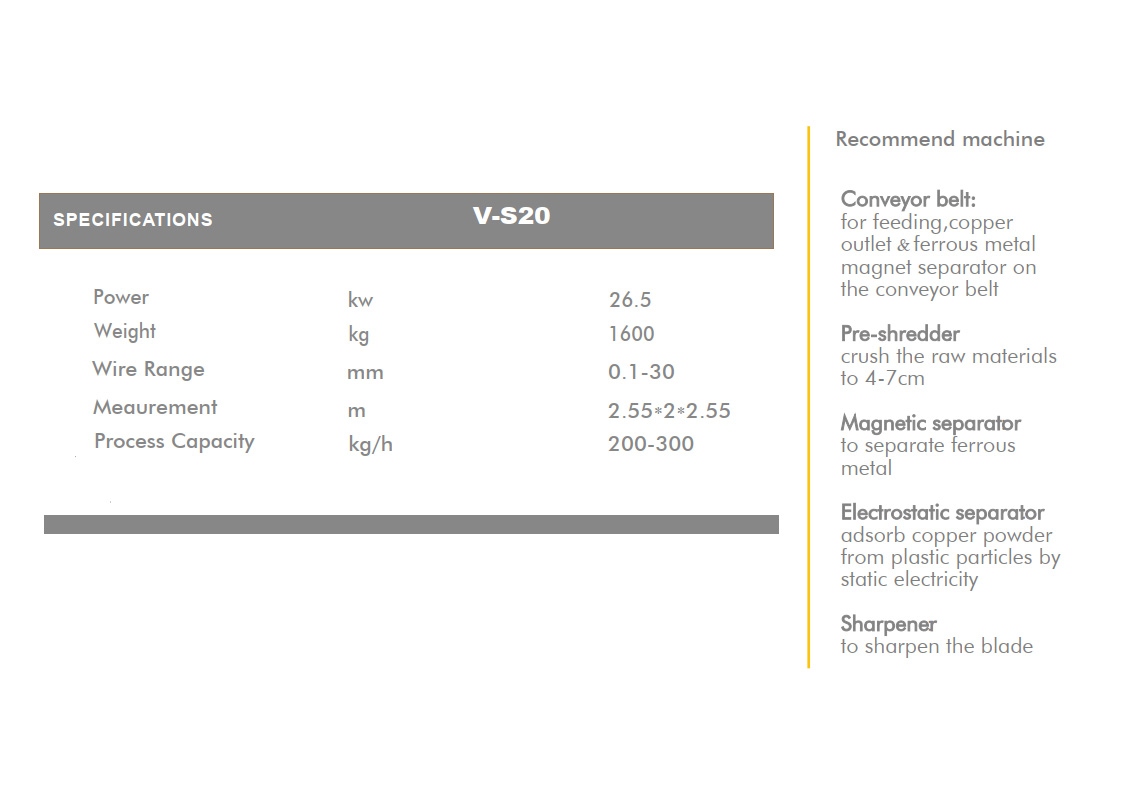 Video: