Factory Video:
Buy our international standard level V-S35 cable granulator machine to run your recycling business smooth, hassle free and make profits.. Order today !!

Product Description:
● Since 2018, the S-35 Cable granulator machine has been one of our company's most popular and best-selling products.
● If you need more processing power, consider assembling the S-35 with a shredder. And S50, C10 will also be a good choice.
● This machine can handle any wire with a diameter in the range of 1-20mm, with a high output of 500-600KG per hour. With an electrostatic separator, it can even help you separate tiny copper particles from plastic.
● Under the action of wind, two materials with different densities pass through the sieve surface at a certain angle, and the deflection caused by the amplitude movement causes the high-density copper particles to advance toward the sieve facing the copper outlet. Low-density plastic floats on the plastic outlet, resulting in separated copper and plastic.
● This machine adopts the overall combined structure, which is easy to install, test and transport. It adopts PLC system to operate fully automatically, which reduces labor costs and improves work efficiency.
● The separation rate of metal and plastic is as high as 99.9%. Economic benefits, recycled copper, aluminum and plastic can be sold at high prices; excellent performance, especially rubber wires, miscellaneous wires and large-size cables can be processed.
● OEM & ODM.
● One year warranty.
Product Show: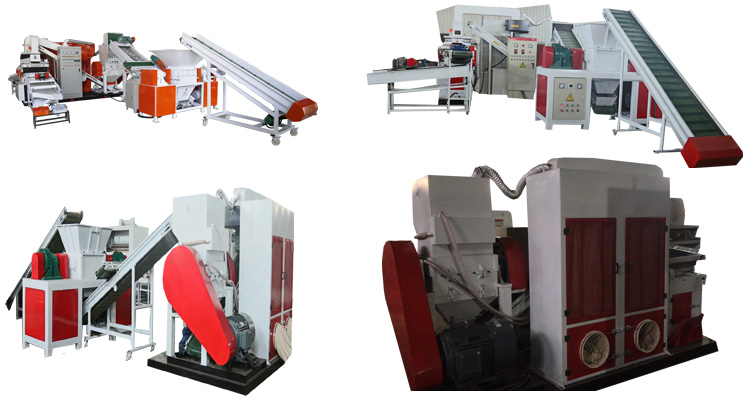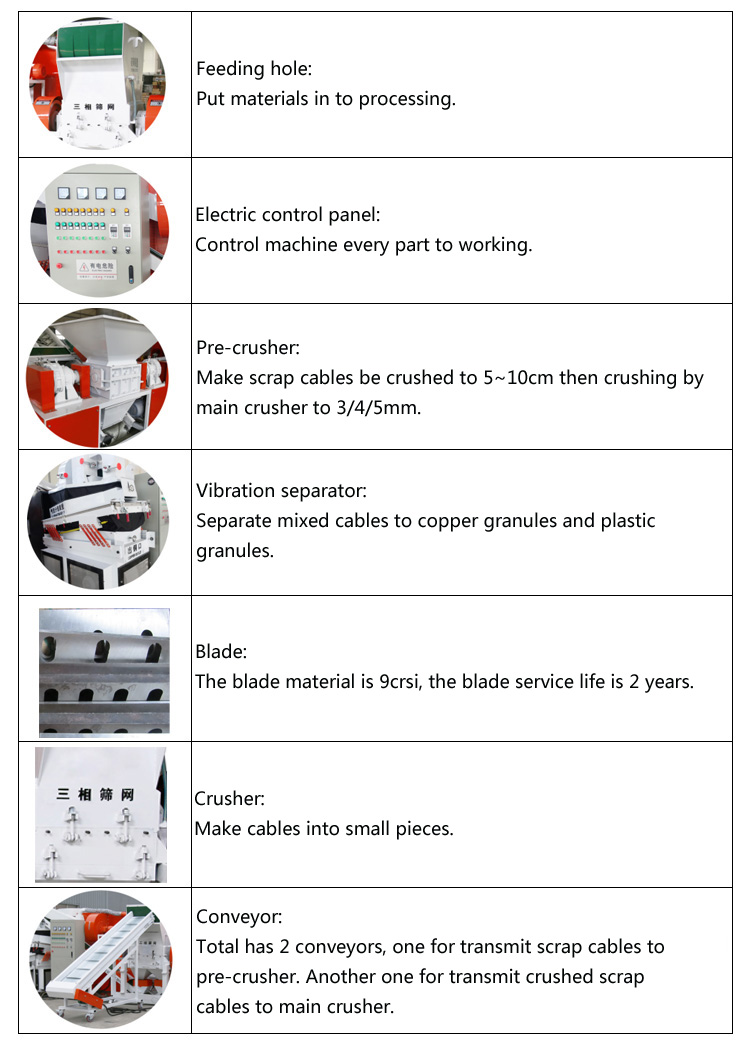 Factory Picture: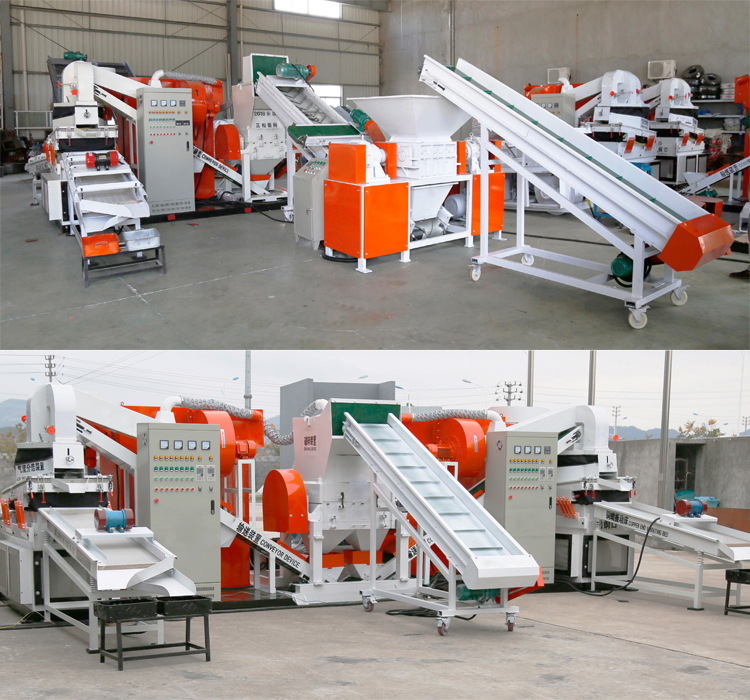 Flow Chart: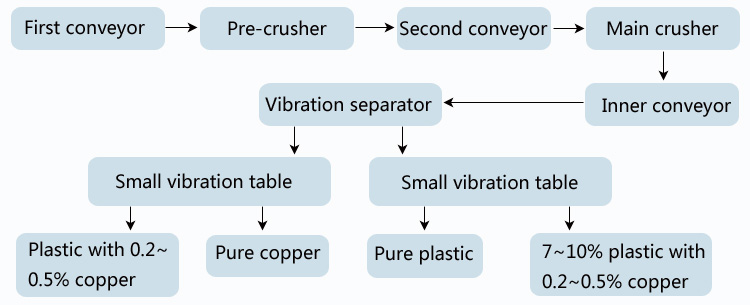 Operation steps:
Step 1: Make scrap cables feeding into pre-crusher by first conveyor.
Step 2: Scrap cables is crushed by pre-crusher to 4~6cm then drop onto the second conveyor.
Step 3: 4~6cm cables drop into main crusher by second conveyor.
Step 4: Crushed mixed cables drop onto inner conveyor transmit them into vibration separator.
Step 5: Mixed cables is separated by vibration separator to pure pvc and copper granules through air blowing and separator vibrating.
Q & A:
Q1: Does the machine need to be installed?
A1: Does not need to be installed,directly connected to the electricity.
Q2: What size can be handled?
A2: The minimum and maximum wire diameter that the cable granulator machine can handle: 0.5mm-30mm.
Q3: What is the separation rate and pure copper rate?
A3: The separation rate is generally 99.8%, and the pure copper rate is generally between 40% and 50% depending on the type of wire.
Q4: How do I adjust the buttons on the control panel?
A4: Air volume is to control plastic blowing backwards, the vibration is to control the copper particles to move forward.
Q5: How to operate in different situations?
A5: Plastic at the copper outlet: you need to increase the air volume or reduce the vibration frequency. Copper particles in the plastic port: you need to reduce the air volume or increase the vibration frequency.
Final Products: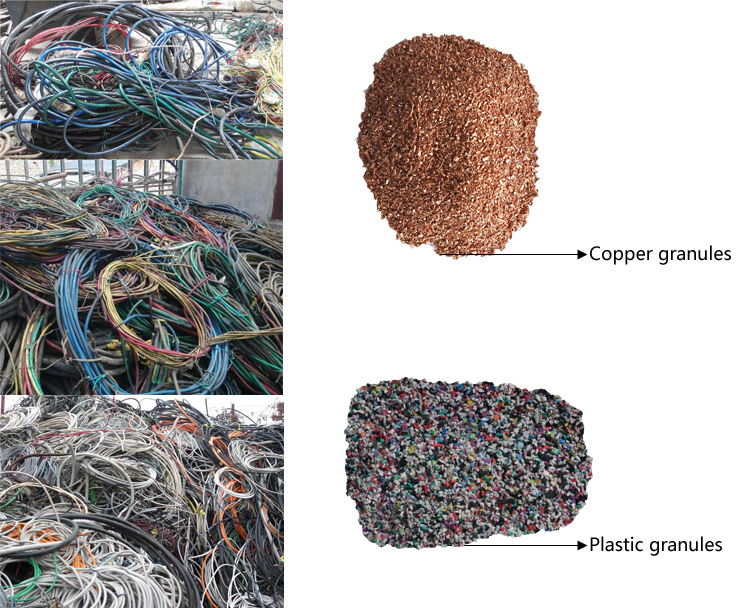 You might also like: