Since 2018, VANER V- S35 Cable granulator machine has been one of our company's most popular and best-selling products.
If you need more processing power, consider assembling the S-35 with a shredder. And S50, C10 will also be a good choice.
This machine can handle any wire with a diameter in the range of 1-20mm, with a high output of 500-600KG per hour. With an electrostatic separator, it can even help you separate tiny copper particles from plastic.
Under the action of wind, two materials with different densities pass through the sieve surface at a certain angle, and the deflection caused by the amplitude movement causes the high-density copper particles to advance toward the sieve facing the copper outlet. Low-density plastic floats on the plastic outlet, resulting in separated copper and plastic.
This machine adopts the overall combined structure, which is easy to install, test and transport. It adopts PLC system to operate fully automatically, which reduces labor costs and improves work efficiency.
The separation rate of metal and plastic is as high as 99.9%. Economic benefits, recycled copper, aluminum and plastic can be sold at high prices; excellent performance, especially rubber wires, miscellaneous wires and large-size cables can be processed.
● OEM & ODM.
● One year warranty.
● Silent performance.
● Easy to use
● Reliability and robustness
● Reduced maintenance times
● Low operating costs
● 2 year warranty high quality pure copper motor.
● Famous brand electric box:SINEE frequency converter & CHINT/DELIXI electrical appliances.

● SKD-11 Blade made in Japan.

● Extra heavy high-quality steel.

● 99.9% high separation Rate.
● recycle scrap waste copper aluminium cable wire
● automatic,electric.
● best selling,china made.
● Custom size from mini to big plant.

● widely used in copper wire recycling industry.
Email : seo@vanermachinery.com
Mobile&whatsapp : +86 18821659423
Factory Add. : HIGH-TECH INDUSTRY PARK , LUQIAO TAIZHOU ZHEJIANG.

Add.:ROOM 1802, A3 BUILDING, JINYE SHI DAI, JINYE ROAD , XI'AN SHAANXI, CHINA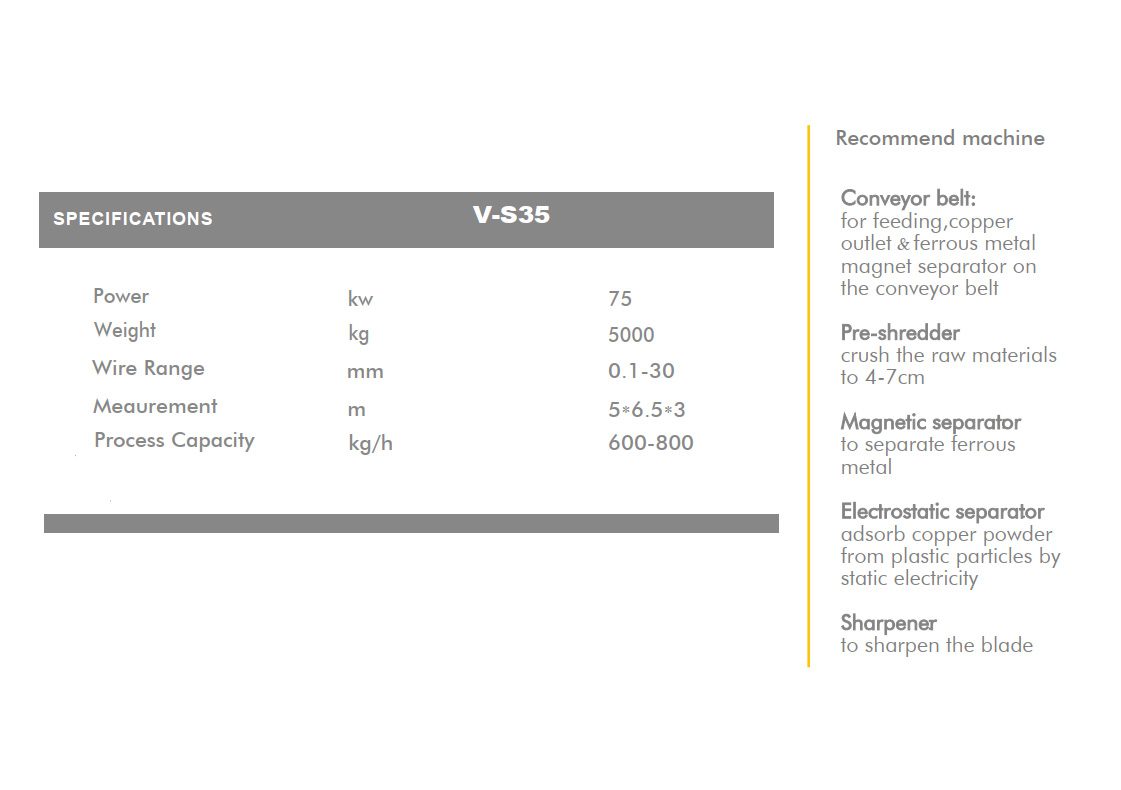 Video: