PC series of POWERFUL GRANULATORS with multi applications. Its main function is to crush all kinds of hard and soft plastics,grind block, round or strip shaped and outlet plastic into granules. It plays a vital role in prompt recycling and processing of plastic scrap, waste and recycling materials, enhancing the utilization of plastic. It can be installed beside the main machine to crush recycled materials during the operation of the main machine. It can also be used to crush centralized materials collected from a production line.
Cutting tools made of high chromium tool steel, gap adjustable and durable
Large flywheels to increase the torque and capacity
Motor designed with overload protection, which automatically shut down when it enters protection mode
Interlock safety device designed to protect the machine and operator.
Oblique cutting and double shear cutting effectively reduces dust and saves energy.
Heavy load bearing and dust-proof devices, together with sound-proof partitions, can effectively prevevt vibration and noise
Equipped with castors, easy to move.
Detachable design for easy maintenance.
● high speed,movable
● best selling,cheap price,china made.
● Custom size from mini to big plant.
● widely used in plastic manufacturing & Recycling industry.
● recycle scrap waste
abs,aluminum can,bottle cap,cardboard,carton board,pet bottle,pet
eps foam,fabric,foam,hard plastic,hdpe bottle,ldpe,pe pp pvc pet
styrofoam,polythene.

Email : seo@vanermachinery.com
Mobile&whatsapp : +86 18821659423
Factory Add. : HIGH-TECH INDUSTRY PARK , LUQIAO TAIZHOU ZHEJIANG.

Add.:ROOM 1802, A3 BUILDING, JINYE SHI DAI, JINYE ROAD , XI'AN SHAANXI, CHINA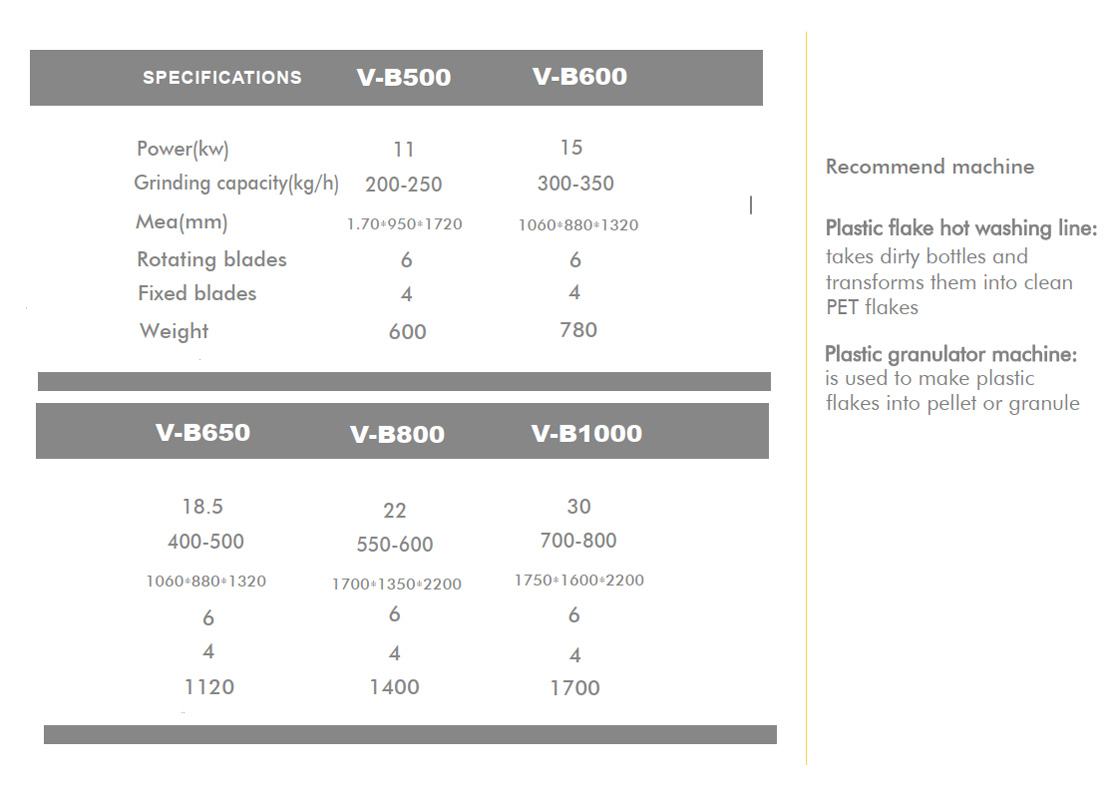 Video: